- Thank you to ALL members who have contributed reviews, articles, photographs and information -
Zia
post Jul 9 2008, 12:30 PM
Something WICKED is about to ........ happen guys,

We read the rumours,
We saw the Official Release ...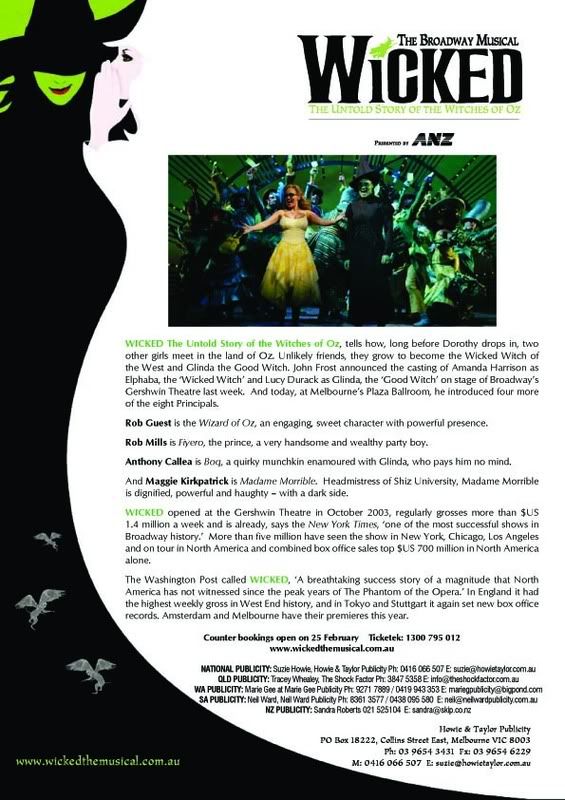 Followed by weeks of snippets of news, articles, interviews and photos of rehearsals and behind the scenes 'happenings'
Then we were treated to wonderful members reviews of the Preview Shows ....



and NOW THE OFFICIAL OPENING NIGHT IS NIGH!!!!!!! THAT'S RIGHT!





The






is almost over ...



The thrill, excitement and pride that we all feel is probably really very hard to put into words. Long time fans of Wicked have waited and hoped for years to see this extravaganza, the world wide successful musical production play in Australia and now excitedly join new found fans in their eagerness to watch Anthony and the whole cast perform in the Melbourne season.

Anthony, we would like to wish you all the very best for Wicked's Opening Night on Saturday and for the duration of your involvement in your role as BOQ. Hope that it is all that you dream for and desire it to be. You are an amazing young man with a zest for life and doing all that you can to achieve goals.

GOOD LUCK and HAPPY TIMES!! from your ACOF fans



and to each and every person who are involved with this production, our sincere best wishes too!!

Nonna and Di, I have borrowed some of your previously posted pics, thank you.

The countdown is on! Wicked opens in....
3 Days, 6 hrs, 35 minutes and 25 secs


Zia
post Jul 9 2008, 12:44 PM
Our wish Anthony,
We have no doubts that you will shine on stage in your role, that you will bring something of your own special qualities to your performances and that you will take away from the experience so much learning, wisdom, growth and appreciation; all that will enhance and give strength to both your personal and professional being. You work so hard at giving the best of yourself to everything you do - it is inspiring!!
There are times whenit is difficult coming to terms with just how huge this production is and the fact that the cast had to audition several times before being given their parts makes it all the more of an honour -for you all to be given this once in a life time opportunity - to have your names forever connected with the Australian production of Wicked, of such a huge world wide successful musical. It gives us goosebumps!!
Best wishes Anthony, enjoy the experiences and the friendships that being a part of the 'Wicked family' brings.
Go BOQ!!!!
Zia